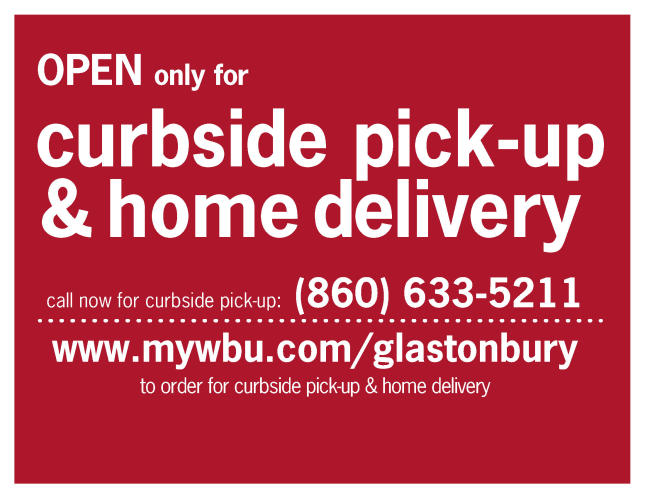 Dear Friends,

As the situation with Coronavirus (COVID-19) unfolds, we want you to know that the well-being of our customers and staff members is our top priority. We have made the difficult decision to follow the advice of local authorities and to temporarily close our showroom for in store shopping effective 3/21/20.

While spending more time at home, you may find that watching the birds is a relaxing and enjoyable hobby that can bring a small amount of joy to our lives during this difficult time.

We have several ways to keep your feeders filled.

Curbside Pick-Up Service: Easy as 1-2-3!
Curbside Pick-Up Hours Monday to Saturday 10 AM to 3 PM
Closed Sunday

1 - Place your order online at http://mywbu.com/glastonbury and select "pick up in-store" at checkout. We'll send you an email to let you know when your order is ready.
2 - Come to the store and let us know when you arrive by calling (860) 633-5211. Then pop open your trunk and wait in your car.
3 - We'll bring your order to your car and place it in the trunk. No personal contact required! (But we can still smile and wave.)

As an alternative


We Also Deliver!
We're also happy to deliver your order directly to your front door. Simply order online at http://mywbu.com/glastonbury and select "Please ship my order" at checkout. We make every effort to personally deliver your order. We will deliver your order personally within 10 miles or so, and deliver in some cases same day, but next day for sure. If out of our range, we will ship USPS or FedEx for the most part.
Please feel free to call us at (860) 633-5211 should you have any issues with an on-line order, we can certainly place it over the phone too.

We'll have the store open again as soon as it's safe and we look forward to seeing your smiling face once again.

Stay safe and healthy over the coming days and be extra kind to one another!

Sincerely,

Roger & Jen Fontaine